TTS "Tech Village" Inteviews TTS 2022 - Jack Dow Grapevine
by David Chappell on Jun 22, 2022 4:49:20 PM
Travel Tech Show 2022: We are the Tech Village
As we edge closer to the TTS 2022, we wanted to introduce you to our second partner who'll be joining us at the 'tech village', stand L40.
Grapevine is about personalization for the traveller, increasing the travellers experience whilst driving revenue back to the TMC. Sounds pretty neat, right?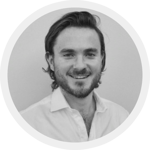 Jack Dow, Founder & CEO at Grapevine joins us for a few mo
ments to
talk about all things TTS and what the future looks like for the guys and gals at Grapevine.
Could you introduce yourself, outline your career to date and the position you hold currently?
Jack Dow: I'm Jack Dow, the Founder and CEO of Grapevine.
My career actually began in Real Estate, where I worked as a Chartered Surveyor in the UK, before spending 10 years in Sydney, eventually running Core Office and Retail transactions for the largest commercial fund in Australia. Grapevine started in 2017 as a consumer-focused passion project but following requests from several businesses to do it for them, we pivoted to a b2b (business to business) model in 2019. We signed Gray Dawes Travel in March 2020 (5 days before lockdown!), built out the product from scratch during the first lockdown and eventually launched in Feb 2021.
How has 2022 been for Grapevine?
JD: After a tentative start thanks to Omicron, we saw a noted shift from TMCs in Q2 where outlooks shifted from a 'baton down the hatches' approach to a much more positive, forward-looking approach.
"TMCs are certainly back, and demand for our product has increased as businesses look to increase ancillary attachment rates and maximize revenues per trip.
Now that the industry seems to be heading in a more positive direction, how does it feel to be exhibiting at the TTS 2022?
JD: It is great to be back! We were lucky enough to win Innovator of the Year at the Business Travel Show Europe last year and the People's Choice award at TTS, so I'm excited to be judging some great new innovative products on the BTS panel and can't wait to see some old and new faces.
What are the expectations for the TTS this year?
JD: Last year was a bit quieter due to Covid, so I'm excited to see the show back in full swing. We're in the process of validating a new corporate-focused product so I'm looking forward to getting feedback and seeing some new perspectives.
What are your thoughts on our collaborative stand and why was it important for Grapevine to be part of our 'tech village'?
JD: The idea of a collaborative stand made perfect sense for us. I'm a big believer that the future of travel is micro-service driven and having announced our partnership with Travelogix a few months ago, it is a great opportunity to join them and others to not only showcase our own products but how we can work together as well.
What role will technology play in the recovery of the business travel industry? And specifically, what value will Grapevine bring to TMCs moving forward?
JD: For me, technology's biggest role in travel is as an enabler. In a travel landscape that is more uncertain than ever, the value of agents being there for customers when they need them cannot be overstated.
I see technology's role as clearing the decks so that agents can focus on what they are good at, rather than getting bogged down in tasks that can be solved programmatically.
Following up with traveller after the initial booking is a great example of this, as the ROI of agents calling people up individually to upsell or cross-sell products is just not there. Our plug and play, AI-driven solution allows us to do just that.
What value do you place on collaboration in the travel industry and moreover, do you feel that this will play a key role in business travel in the future?
JD: I have always been a big believer in collaboration, particularly in an industry as complex as travel.
No one has the time or resources to do everything on their own and thinking that you can is a common pitfall that often leads to poor performance and client dissatisfaction.
Finding best in class partners who you can collaborate with to optimize performance is, in my mind, the key to success.
Lastly, as we're halfway through 2022 already, what are the plans for Grapevine in the short term, and of course for the second half of the year?
JD: We are in the process of signing up multiple new partners which is super exciting. We also recently recruited a new head of Data Science (come meet him at the show!) so we will be rolling out improved personalization and time and channel optimization which will be great to see.
I'm also hoping to announce the roll-out of a new product soon, so watch this space!
For more information on traveller personalization and increasing your ancillary attachment rates, please swing by and speak to Grapevine on Stand L40.
Previous Interviews:
Interview 1Tech Village Series: Read the Interview with Steffen Faradi and Chris Lewis.